Students
Left: MINAMI Chisa, first-year student(Tsuna Hight School, Hyogo Prefecture)
Right: NAKAMURA Nanase, first-year student(Tsuna Hight School, Hyogo Prefecture)
The students are united, stimulating and helping each other.
Unlike high school, we are not taught key points on the board, which was confusing at first. Some of the course contents are difficult, but we are able to keep up with them. The class I recommend is Field Science Practicum. We can really feel what it is like to grow, observe, harvest, and taste vegetables by ourselves. And you get lots of vegetables.(lol)
The university courtyard, central building, and library are very beautiful and look like a private university. The number of students per grade is small, so students are united, stimulating and helping each other. The teachers are also very close to the students, and the students can actively learn. This university is suitable for those who want to learn by doing, those who are interested in agriculture and food, and those who want to feel close to nature.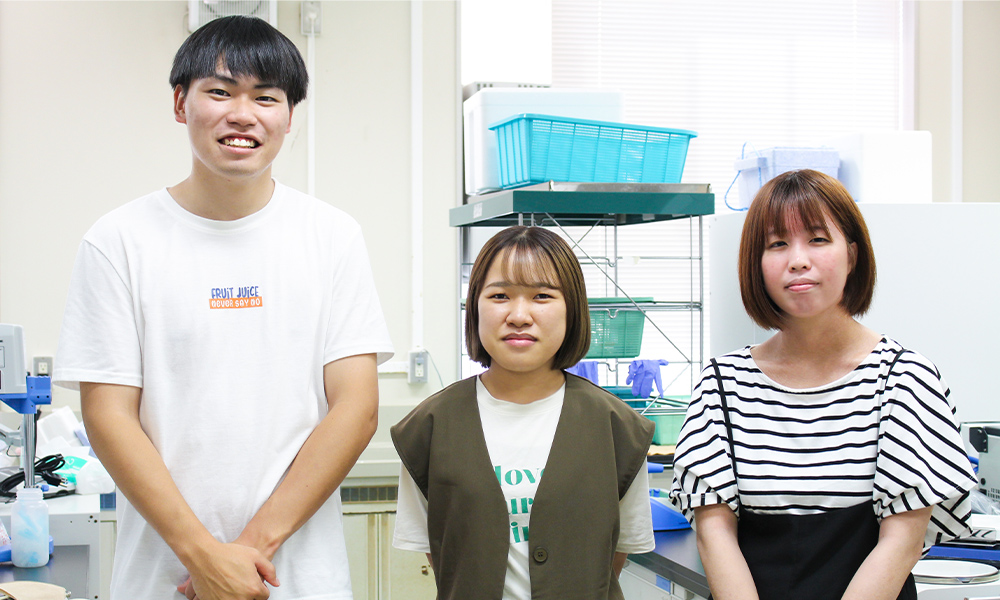 【Mabuchi Laboratory, Food Analysis and Development】
Left: HIRATA Taketo, 3rd year student (Hiro Hight School, Hiroshima Prefecture)
Center: TERADA Ritsu, 3rd year student (Matsuyama Kita High School, Ehime Prefecture)
Right: KURISU Megumi, 3rd year student (Kanbe High School, Mie Prefecture)
It is a great place to learn and research "food" comprehensively.
Since students are assigned to a laboratory from their third year, they visit the laboratory during their second year to decide where they would like to be assigned. Each of us researches on the theme presented by Dr. Mabuchi.
・Changes in composition and taste of soy sauce depending on storage period and method (Hirata)
・Effects of differences in rice and bread ingredients and production on taste (Terada)
・Components in human serum and their relationship to diet (Kurisu)
We spend our time between classes in the laboratory about four days a week.
There are also classes on agriculture and management, We can learn and research "food" comprehensively.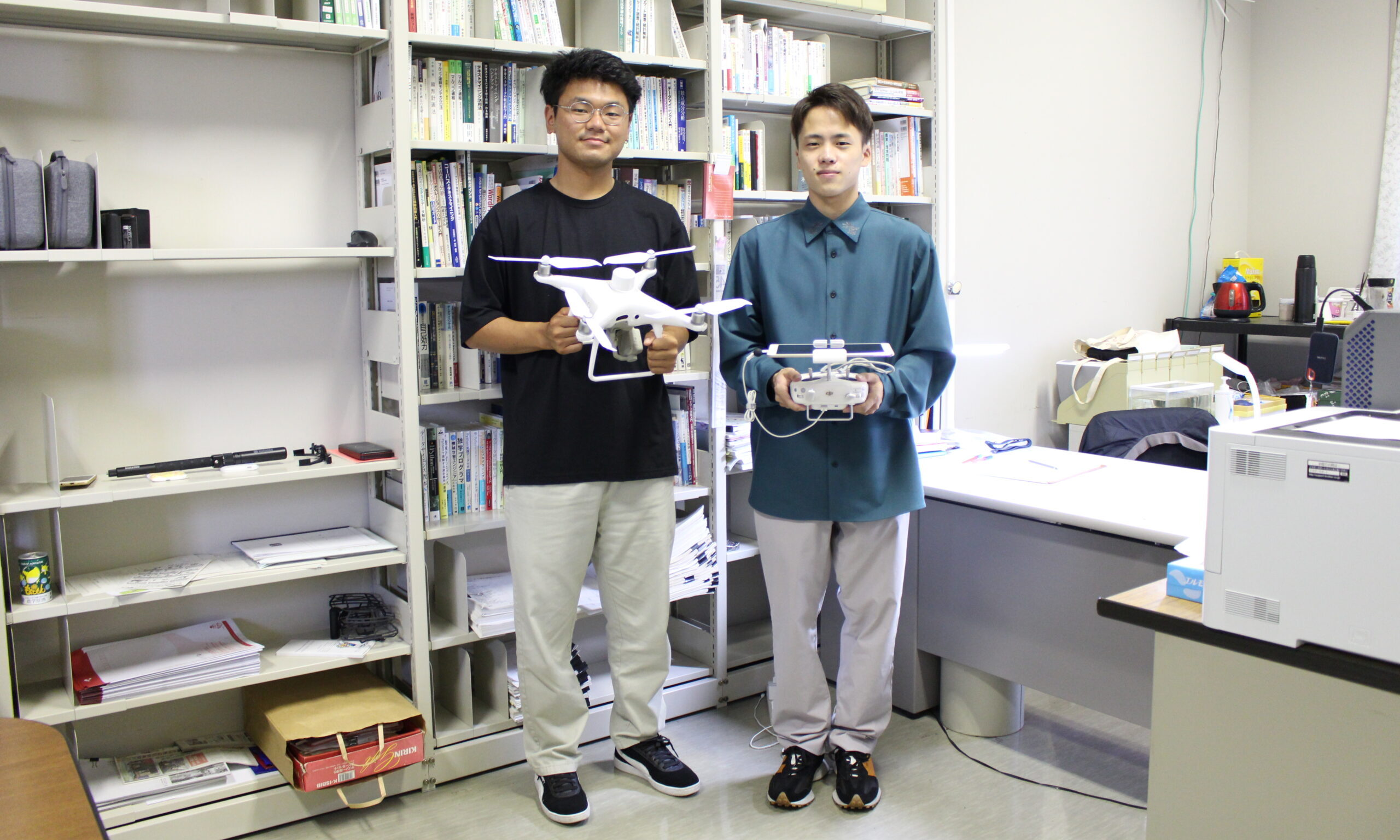 【Park Laboratory, Agriculture and Food Management】
Left: FUJIWARA Rui, 3rd year student (Nisshokan High School, Hiroshima Prefecture)
Right: HAGA Kousei, 3rd year student (Gizan High School, Gifu Prefecture)
You can create a broad and strong connection.
When I first came to Shobara, I was worried about whether I would be able to get along. However, living in the dormitory, I was able to make friends with my classmates and seniors, and my fears were soon put to rest. Now I have more friends and enjoy spending time with them every day. I strongly recommend that first-year students spend their time at the dormitory. You will have more opportunities to interact not only with students from your department, but also with students from other departments and seniors, so you will be able to build a strong and wide-ranging relationship with them.
In my third year, I am assigned to the Park Laboratory, where I am working on improving visibility by creating 3D modeling of vacant houses photographed by a drone (Haga), and developing products from the unused leaves of locally-grown blueberries (Fujiwara).
Since the lab has a variety of research themes, some students do programming at home, some go to the field, and some do experiments in the lab, but we get together once a week for a debriefing session.
From the first year, there are many practical classes, and we have many opportunities to interact with people actually working in the field and in the community, so I recommend the practical classes not only for its knowledge, but also for its practical experience.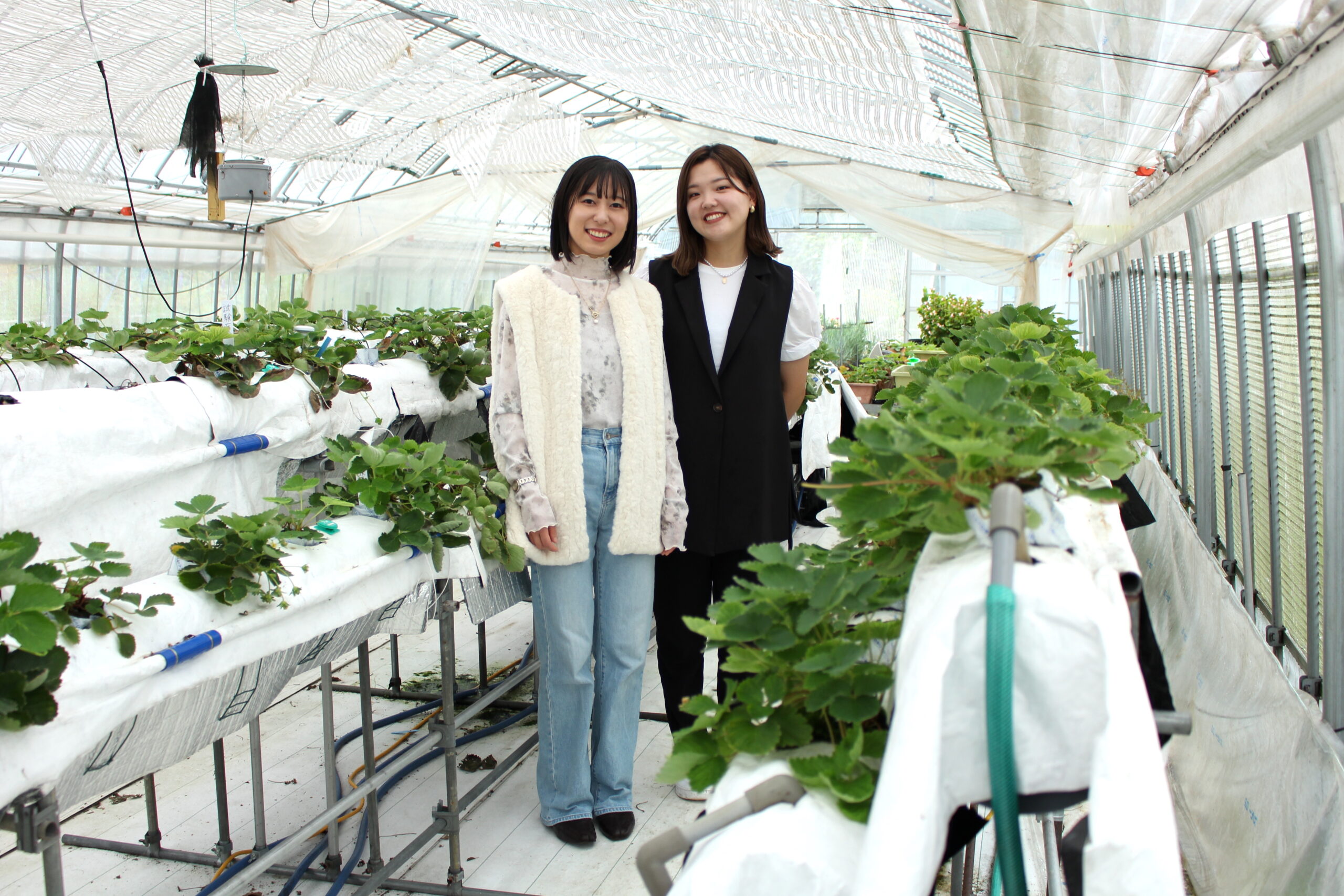 【Kohmura Laboratory, Agricultural Production and Development Systems】
Left: YONEDA Yumi, 3rd year student (Tottori Higashi High School, Tottori Prefecture)
Right: OHTA Mai, 3rd year student (Hiroshima Kanon High School, Hiroshima Prefecture)
This is the only department in the prefecture where you can learn more about agriculture based in the mountainous areas of Hiroshima Prefecture!
I chose this department because I am interested in agriculture and want to work in agriculture in the future (Ohta). I love plants and nature, and I entered this department because I wanted to do research related to plant biotechnology at university (Yoneda).
We currently belong to the Koumura Laboratory. I am learning about the plants that are the subject of my experimental theme while helping my seniors with their research and work. I feel that I am gaining a deeper understanding of the plants because I am learning about yield, quality, and cultivation methods while actually growing the plants. The Department of Development of Local Resources is based in the mountainous area of Hiroshima Prefecture and is the only national and public department in the prefecture where you can learn about cultivation in detail, so if you are interested in agriculture, this is the place for you!
Collaborative research is also very active, and you can work with research in different fields. The department also offers classes not only in agriculture, but also in food and management, so it is a good place to acquire qualifications to become a food sanitation supervisor or food sanitation monitor, or a 6th industry producer of food (SHOKU Pro.).
SHOKU Pro.:https://www.6ji-biz.org/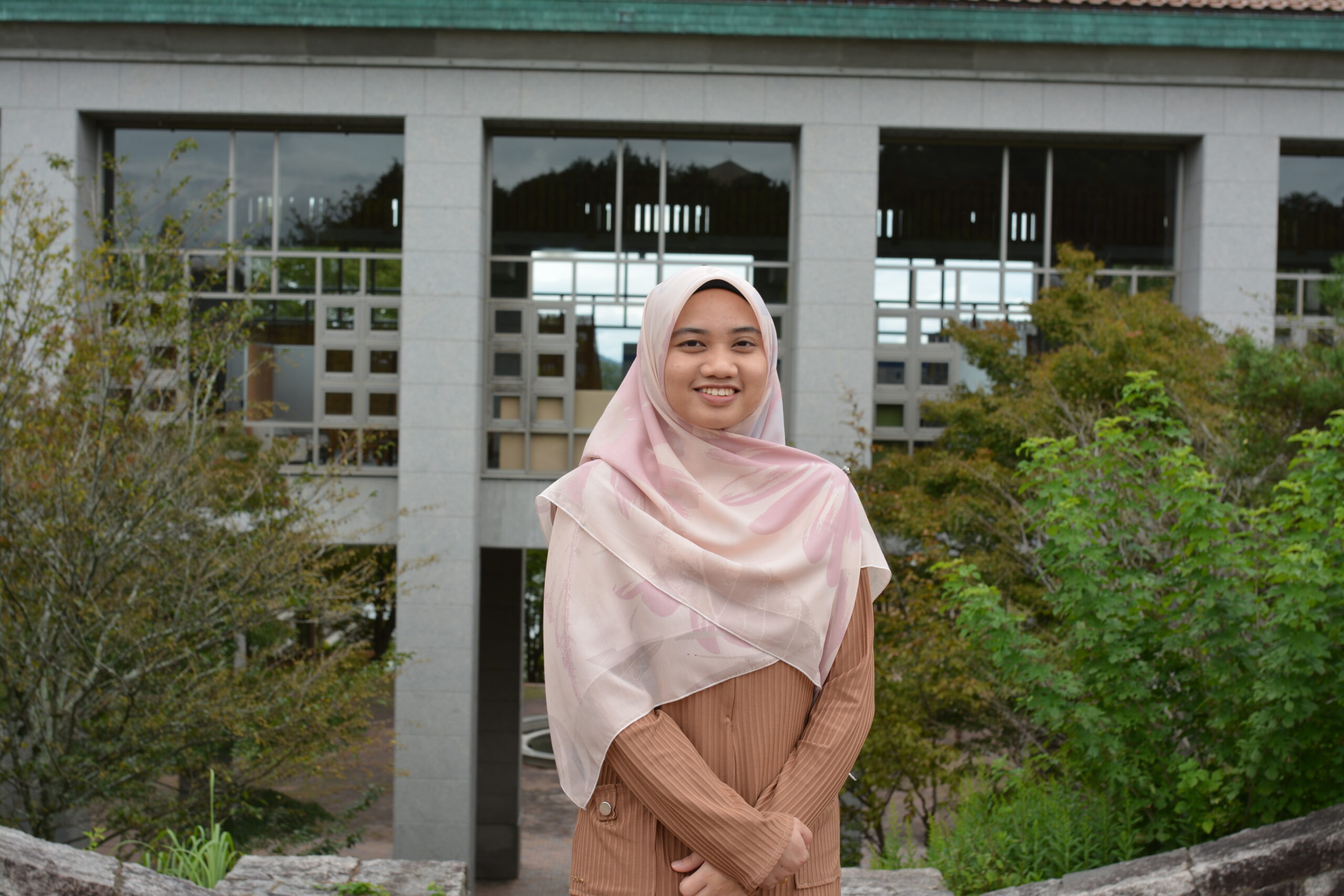 【International Student from Malaysia】
Nur Ain Hannani Hami, 2nd year Master's student
Message to prospective students
"They told me prestigious university with the highest ranking is the best. But I believe university that makes me feels home, equipped with sufficient facilities, led by kind-hearted staffs is the right place.
They told me chasing after teachers with well-known reputation is important. But I realized, teachers who act like my good friends, let me explore the knowledge freely without fear and allow me to cherish the learning process are the one that we should be looking for.
They told me university having similar religion, culture and language background is easier. But I trust that living in a tolerant environment full of considered friends, staffs and teachers who respect each other's differences is a luxury that not all can afford.
And if they ever asked me once more which university would I choose, I will constantly choose Prefectural University of Hiroshima, Shobara campus all over again. No doubt."
卒業生 【】
さん
受験生の方に向けたメッセージ
サンプルテキストサンプルテキストサンプルテキストサンプルテキストサンプルテキストサンプルテキストサンプルテキストサンプルテキストサンプルテキストサンプルテキストサンプルテキストサンプルテキストサンプルテキストサンプルテキストサンプルテキストサンプルテキストサンプルテキスト